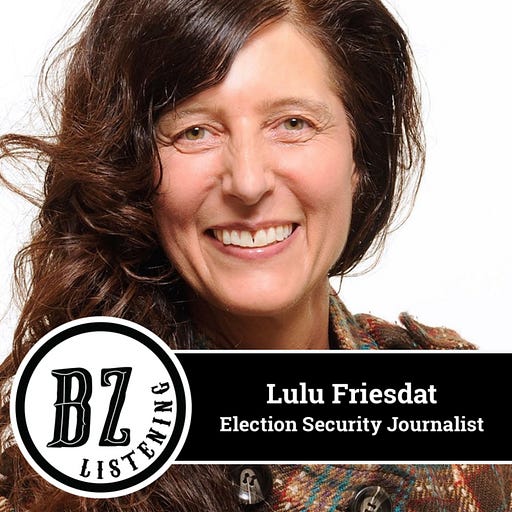 Jul 3, 2019 • 47M
30. Lulu Friesdat - Election Security Journalist
Brian "BZ" Douglas is an independent journalist based outside Cleveland, Ohio. On this show he sits down to talk with grassroots performers, activists, journalists, authors, or persons of interest in stories he's covering. All songs included with permission from the artists. Support BZ's work on Patreon https://www.patreon.com/bzdug
Happy Almost-Birthday America!
Now I know you're excited to light off your fireworks, to bbq in the backyard, and to see all the people waving your flag and wearing it as a swimsuit, BUT first we gotta talk about some serious problems with your election systems.
My guest today is Lulu Friesdat, Communications Director of SMART Elections, a new non-partisan project dedicated to elevating the issue of election reform to an urgent national priority.
Lulu is an Emmy award-winning journalist and filmmaker whose election security investigations have received over 4 million views on Now This. They've also resulted in a top Florida election official's conduct being declared illegal, and voting machines in Wisconsin being decertified. Her work has been featured on Politico, MSN.com, the Young Turks, The Hollywood Reporter, The Christian Science Monitor, Salon, and Truthout. She has worked as an editor and producer in broadcast television for over 10 years, including assignments with NBC, CBS and ABC News/Nightline. Her first documentary Holler Back – [not] Voting in an American Town was featured in The Hollywood Reporter as part of a group of "thoughtful and provocative" films being made by women. It received a Best Documentary award and aired on public television.
Follow Lulu on Twitter at: https://twitter.com/lulufriesdat
Visit https://smartelections.us/ to see all the reporting we discuss in this episode, and learn about how you can take action to make America a democracy worth celebrating on the fourth of July.