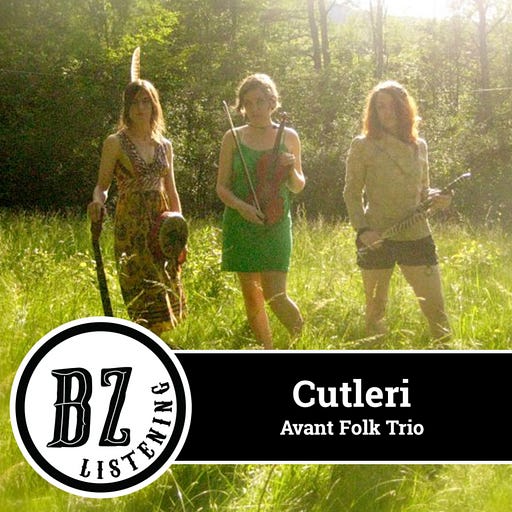 Apr 1, 2019 • 1HR 12M
13. Cutleri - Avant Folk Trio
Brian "BZ" Douglas is an independent journalist based outside Cleveland, Ohio. On this show he sits down to talk with grassroots performers, activists, journalists, authors, or persons of interest in stories he's covering. All songs included with permission from the artists. Support BZ's work on Patreon https://www.patreon.com/bzdug
I've known Cutleri for about a decade going back to when I first started playing music in 2009. 
It was at Penny's Open Mic that I first discovered Cutleri when they were the featured guest. They immediately stood out, from the sheer number of instruments and musical toys amassed around them. Heidi Harris would play everything from piano or blower keyboard to thunder-makers and finger chimes, Christen Napier perfectly plucked away at her banjo while Jessie Shaffer shifted from barnyard fiddling to concert soloist mode on her violin. All the while the trio is tossing out haunting harmonies and rattling their ankles, which were just covered in bells.
Cutleri is truly a band to behold, which is why I booked them for my variety show the Carnivale as many times as I could. Several years back, Cutleri had to disband as the three sirens set sail for separate seas. They recently reunited to record a new album, and hope to continue to circle back to each other over the years. Today we talk about how and where they came together, how they approach songwriting, and what projects they've been working on in the years since Cutleri was playing regularly in NYC.
They may not be playing live anymore, but you can still find their music on Spotify and Bandcamp, and you can follow them at the links below:
Cutleri:
https://www.instagram.com/cutleri_band/
Jessi Shaffer:
https://www.instagram.com/littlestbirdmusic
Heidi Harris:
https://soundcloud.com/heidi-harris-1
Vote for BZ Listening as "Best Local Podcast" in Cleveland Scene's 2019 list: