Discover more from BZ Reading
Independent Journalist covering police abuse, prosecutorial misconduct, and political corruption in Ohio. http://patreon.com/bzdug
Woman Dramatically Reminds Protestors of Kenneth Smith's Tragic Death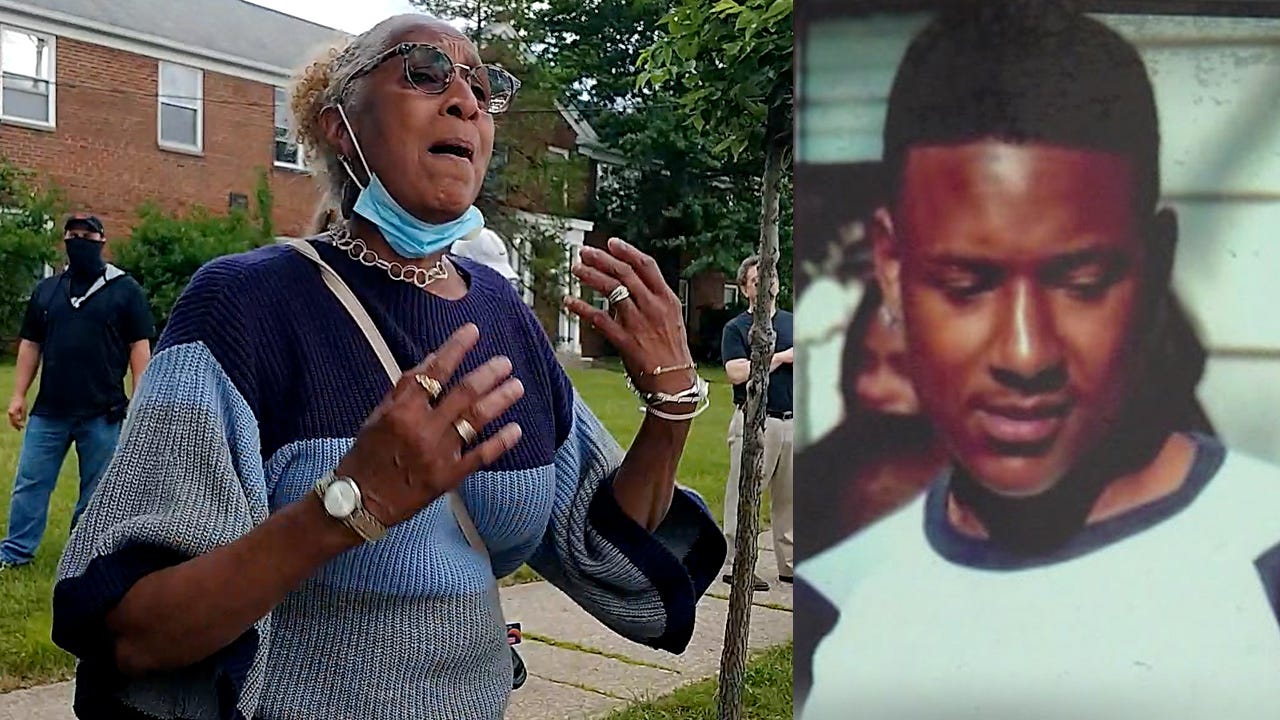 Minister Pia Hoffman-Gaston was on her way to buy groceries in University Heights last Tuesday when she happened to pass by the Heights for Our Lives protest. Shortly after hearing organizer Aliah Lawson shout into the megaphone, "I will not stand for another George Floyd! I will not stand for another Breonna Taylor! I will not stand for another Tamir Rice!", Hoffman was compelled to shout out another name: Kenneth "Kenn Ball" Smith.
The crowd quickly shifted focus to Hoffman as she delivered an impassioned and distraught summary of Smith's story:
Shot in downtown, 2012, in the head by a police. Pulled him out of the car for no reason. Good student, in college, never did nothing, and he's dead today! And what did the city give him? Five million dollars to his mother. Will that bring this child back? No!

Video of Hoffman's speech
Hoffman continued telling Smith's story, eventually succumbing to tears, at which point she was invited to join the organizers who offered her the megaphone. She told the crowd that "I was on my way somewhere else, but I saw this. It's not about notoriety, it's about truth," and continued to share the details of Smith's tragic story.
During the course of her telling, Hoffman also revealed that Smith was her nephew's cousin, and stated that in 1998 she resigned as an officer with the Cleveland Sheriff's department due to racial and sexual harassment As she concluded her remarks, Hoffman said "Nobody heard about Ken."
Smith's story was covered in 2012, but not nearly as prominently as Tamir Rice's was. Scene provided some of the most in-depth coverage, including a lengthy cover profile and ongoing coverage of the criminal and civil trials that ensued. However, no new reporting on the case can be found since the final appeal ruling on the civil suit in the fall of 2018.
On the night of March 10th, 2012, Smith was shot in the back of the head by Officer Roger Jones in the parking lot of Wilbert's, a live music venue in downtown Cleveland. Jones, who was off-duty at the time, said to a 9-1-1 dispatcher that he was drinking at the Tops and Bottoms Gentlemen's Club when he heard gunshots and ran out to the street to investigate. He later changed his story in a deposition, asserting that he had been in the parking lot behind Wilbert's.
Smith was an aspiring rap artist who went by the name Kenn Ball. He had a promising career ahead of him, no interest in guns, and was known by his friends and family as a peaceful person. Smith was only convinced to come down to Wilbert's because one of his songs was going to be played at a party. 
When shooting broke out in the parking lot outside, Smith exited the club with two neighborhood friends Devonta Hill and Kayron Purdie, and the three got into Hill's car. Officer Jones claimed he saw a male in the car discharge a handgun and then drive away. Jones then called the police radio center from his mobile phone and began running after the car.
At East Ninth and Prospect Avenue, Jones caught up with three police who had successfully stopped the car and were ordering Smith, Hill, and Purdie out of the vehicle. Jones approached the front passenger side window where Smith was sitting and ordered him to put his hands up, but Smith did not respond. Jones then smashed in the window and attempted to remove Smith from the car, but Smith resisted. This is when Jones says he saw a handgun in the center console of the car and Smith's hand moving toward it. That was when Jones fired a single shot into the back of Smith's head.
Over two years later in April of 2014, then Cuyahoga County Prosecutor Tim McGinty announced that the shooting was justified in a letter to Cleveland Police Chief Calvin D. Williams. The letter asserted that Smith was lunging for a gun, which is what prompted Jones to use lethal force. McGinty stated that Jones "correctly and heroically took action to protect the safety of the citizens of Cleveland."
This did not satisfy Smith's family, who sued Jones for wrongful death in Federal court. At that trial, two eyewitnesses came forward in the civil trial to dispute Jones' account of the evening. Kayla Hodge and Alexis McCray testified that they saw Jones successfully pull Smith all the way out of the car. The witnesses went on to testify that Smith had his hands up and was proceeding to kneel on the pavement when Jones put his gun to the back of Smith's head and pulled the trigger.
The verdict in favor of the Smith family was delivered on September 11th, 2015, and awarded $5.5 million dollars in damages. The case stretched out another three years as Jones exhausted his appeals. In September of 2018 the Smith family prevailed in court with a lesser award of $3.7 million. The settlement was the last time the case received any local news coverage. In her last public interview following the final verdict, Smith's mother Shauna lamented, "I no longer have my son. I'll never see him again." 
Officer Jones continues to work as a police officer in the city of Cleveland. In March of 2019, Jones was interviewed as part of an Ideastream story, Mindfulness Training Relieves Stress for Cleveland Police Officers. The interviewer was either unaware of Jones' connection to the Kenneth Smith shooting, or chose to omit Smith's name from the piece. The only reference to the incident is that Jones "was involved in a controversial fatal shooting," and goes on to quote Jones saying "I was looking for anything to help move me along and bring me back to a normal place after being involved in something so traumatic."
When contacted for additional comment, Hoffman-Gaston replied, "The story should be about him, because he was forgotten."
---
Brian "BZ" Douglas is an independent, reader-supported journalist covering movement politics, grassroots music, and host of the "BZ Listening" Podcast.