Discover more from BZ Reading
Independent Journalist covering police abuse, prosecutorial misconduct, and political corruption in Ohio. http://patreon.com/bzdug
Euclid officer Matthew Rhodes and officials throughout Ohio facing charges of homicide, dereliction of duty due to non-compliance with state-mandated training
Rhodes killed Luke Stewart in 2017 while on patrol in Euclid. According to new information, he should have been removed from service or gone through re-certification training in 2015.
EUCLID, Ohio— Mariah Crenshaw of Chasing Justice, LLC and Dr. Richard Montgomery, 2019 Euclid mayoral candidate, filed affidavits with the Euclid Municipal Court on Monday calling for charges to be brought against Matthew Rhodes for homicide, assault, and impersonating a police officer. They also requested that charges of fraud, theft, involuntary manslaughter, and dereliction of duty to be filed against officials in the Euclid, Maple Heights, and Kirtland Hills police departments. Rhodes is currently working in Euclid's patrol division.
These affidavits were filed using an Ohio law that allows citizens to bring charges against any individual known to have committed a crime. The information will be reviewed by judge Patrick J. Gallagher who will decide whether or not to forward the charges to county prosecutor Michael O'Malley, who will then have to investigate and present them to a grand jury.
The Killing of Luke Stewart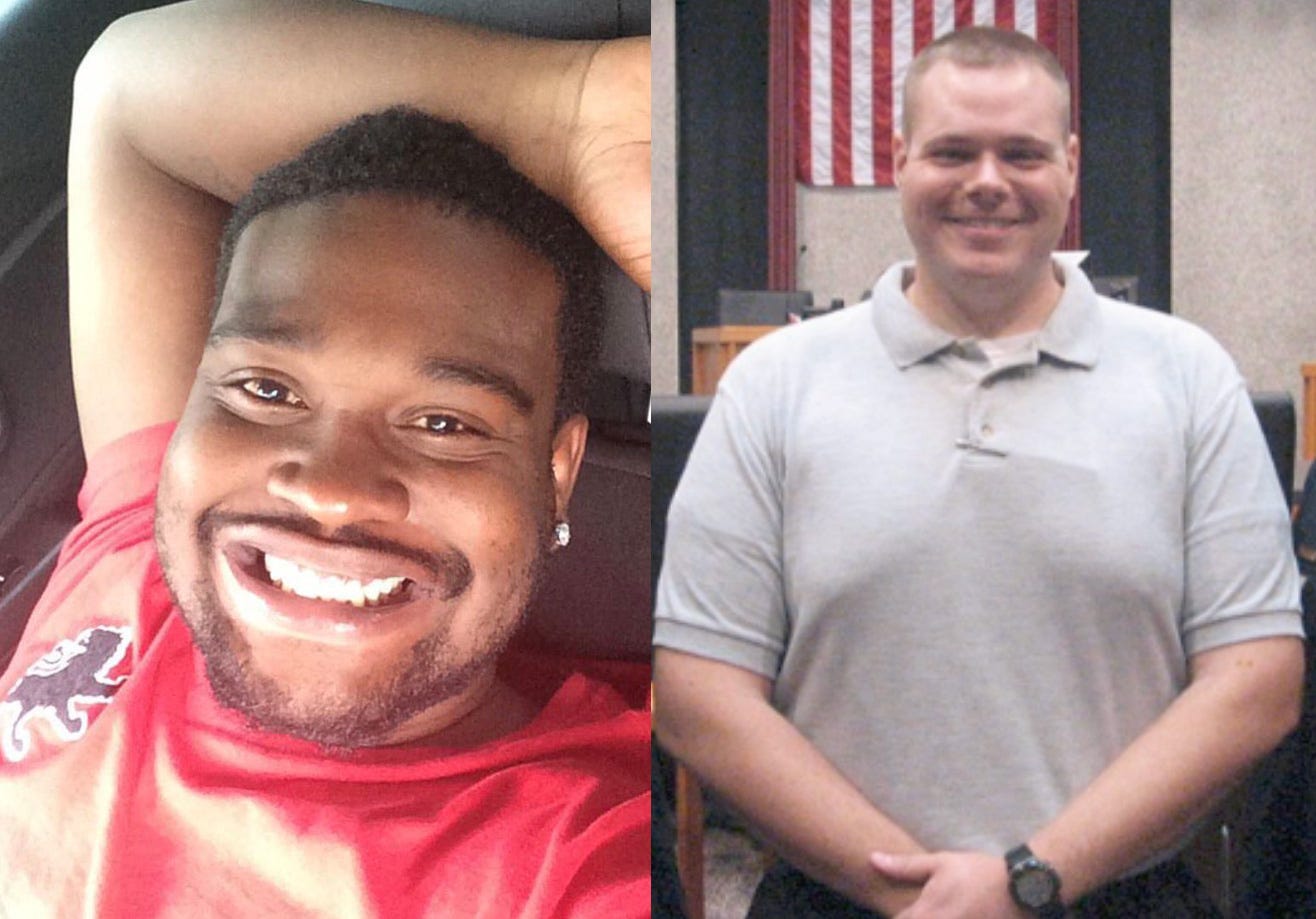 Luke Stewart (left), Matthew Rhodes (right)
On March 13th, 2017, officer Rhodes killed Luke Stewart, an unarmed African American man, who was sleeping in his car when first approached. Rhodes and his partner, Louis Catalani, were responding to a call from a Euclid resident who thought Stewart's car was suspiciously parked on her block. Stewart had parked on the street after unsuccessfully attempting to get in touch with a nearby friend he could crash with.
After Catalani noticed what appeared to be a half-smoked marijuana joint and the top of a wine bottle in Stewart's car, the officers made the contentious decision to arrest a sleeping man who had committed no crime. Rhodes and Catalani positioned their cars in front of and behind Stewart's. Against department policy, neither officer turned on their red and blue lights, which would have initiated recording on their dash cams. Instead, they both opted to turn on their blinding "take down" lights and at least one window mounted flood lamp pointed at Stewart's car.
Catalani approached first on the driver's side while Rhodes moved up to the passenger door. Catalani knocked on the window, and Stewart woke up to a silhouetted stranger waving at him. Stewart waved back, sat up, and started his car, which is when Catalani and Rhodes decided that the use of force was appropriate and necessary. At no point did either identify themselves as a police officer.
Rhodes made no attempt to verbally de-escalate the situation he found himself in with an unarmed man, and instead chose to attempt to subdue Stewart with a steady escalation of violence.
Catalani opened the door and began trying to pull Stewart out by wrapping his arm around Stewart's neck to get him in a "mandibular lock." At the same time Rhodes opened the passenger side door and started attempting to push Stewart out of the car.
Stewart panicked and put the car in drive. Catalani disengaged when he saw that the driver's side door was about to collide with Rhodes' car. Rhodes decided that the proper thing to do was to jump all the way into the car as Luke drove off.
Rhodes made no attempt to verbally de-escalate the situation he found himself in with an unarmed man, and instead chose to attempt to subdue Stewart with a steady escalation of violence. First he began punching Stewart in the head. Next, he shot Stewart with his taser, but failed to disengage the safety. Rhodes then set about punching Stewart in the face with the front of the taser. When all that failed, Rhodes concluded that the only option left was to shoot Stewart until he stopped moving. The autopsy report showed three bullets in Stewart's chest, one in his wrist, and a fatal shot to his neck.
Throughout this attack, Stewart's car had only driven the length of a single block. Rhodes admits the car was in neutral at the time of the shooting and that the car was not moving forward. Despite this, Rhodes claimed that lethal force was necessary because he feared he would be ejected through the windshield or that Stewart might hit someone else.
Under the shield of qualified immunity, Rhodes has avoided both a grand jury indictment and a judgement against him in a wrongful death suit filed by Stewart's family. What Chasing Justice has uncovered has the potential to lift that shield from Matthew Rhodes, as well as a significant portion of officers in the state.
The Letter of the Law
In the winter of 2017, Chasing Justice was assisting some residents of East Cleveland who wished to remove a problematic officer from their city's police force. During the course of investigating this officer, a "cease function" letter was found in his file. Crenshaw had never heard of such a document before and believes it was provided to her team by mistake.
According to Ohio Revised Code 109.803, officers are placed in "cease function" status when they fail to maintain their required Continued Professional Training (CPT) hours before the end of the year and do not request an extension through the proper channels with a valid excuse. This means they are no longer authorized to serve as a police officer in any capacity, carry a weapon, or entitled to claim "qualified immunity" in defense of their actions.
Chasing Justice continued to investigate East Cleveland, and they discovered that over two dozen officers in the city had been designated as cease function from 2016-18. In 2019, this information was provided to the Ohio Peace Officer Training Commission, which conducted an audit that revealed East Cleveland had received more than $10,000 in reimbursement fees for training that its officers did not actually complete.
Since then, Crenshaw and her team have requested records from the Ohio Peace Officer Training Academy (OPOTA) for every law enforcement agency in the state. Their goal is to identify officers who have been placed in cease function due to training noncompliance. Officer Rhodes is one of the officers they identified.
Rhodes began his career in October of 2008 with the Kirtland Hills Police Department under then Chief of Police Gerald Smith, Jr. He was not required to take CPT until 2010 as newly graduated persons are exempt for twelve months after graduating from the academy. In 2011, Rhodes obtained an appointment with the Maple Heights Police department under then Chief John Propielarcyzyk. In August of 2016 Rhodes was sworn in as a full-time officer in Euclid by then Chief Thomas Brickman, where Rhodes currently remains on duty in the patrol division.
OPOTA records show that Rhodes had logged zero CPT hours in 2014 and 2015. This is where Rhodes' training deficiencies begin to cause problems for himself and his former chiefs. Propielarcyzyk submitted CPT rosters to OPOTA for 2014 attesting that Rhodes had taken the required hours of CPT training. In that year, Rhodes did take five "eOPOTA" courses online, but according to state law, only courses conducted in a classroom setting with a certified OPOTA Instructor may count toward his mandated training requirements. These courses are problematic because, according to Crenshaw, classes can sometimes be as long as three minutes, and officials will claim they fulfil a full hour of mandated training.
After transferring to Euclid, Captain Scott Roller reported to OPOTA that Rhodes had taken eleven hours of CPT courses in 2016, but was unable to provide any records to Chasing Justice that could confirm these numbers. That training is irrelevant to the issue, though, because if Rhodes fell into cease function in 2014, state law would require him to go through re-certification training before he could be reinstated as a police officer.
Because of their failure to ensure that Rhodes had taken his mandatory training, Chasing Justice has filed charges of dereliction of duty against Smith, Propielarcyzyk, Brickman, and Roller, as well as Barry Hendricks and Richard Maracz the current chiefs of Kirtland Hills and Maple Heights, respectively. All six men are also being charged with committing fraud on the office of OPOTA for unlawfully receiving reimbursement funding they were not entitled to.
Cleveland.com reporter Olivia Mitchell covered this story after a lengthy interview with Crenshaw. Mitchell spoke to Captain Mitch Houser who manages the department's training. He told Mitchell that "the information is easy to obtain, but sometimes it's hard to understand," and that he would be open to talking with Chasing Justice. Crenshaw found this statement frustrating because she has spoken with Houser several times, and believes he is the one who doesn't understand how the law works.
Euclid's Training Troubles
This is not the first time that the Euclid Police department has come under fire for training-related issues. During the course of the civil lawsuit against Rhodes, an in-house training presentation containing jokes and videos that trivialized the use of force was presented as evidence of the department's cavalier attitude towards the subject. Despite dismissing the case, U.S. District Judge James Gwin wrote in his opinion that the training materials were "grossly inappropriate."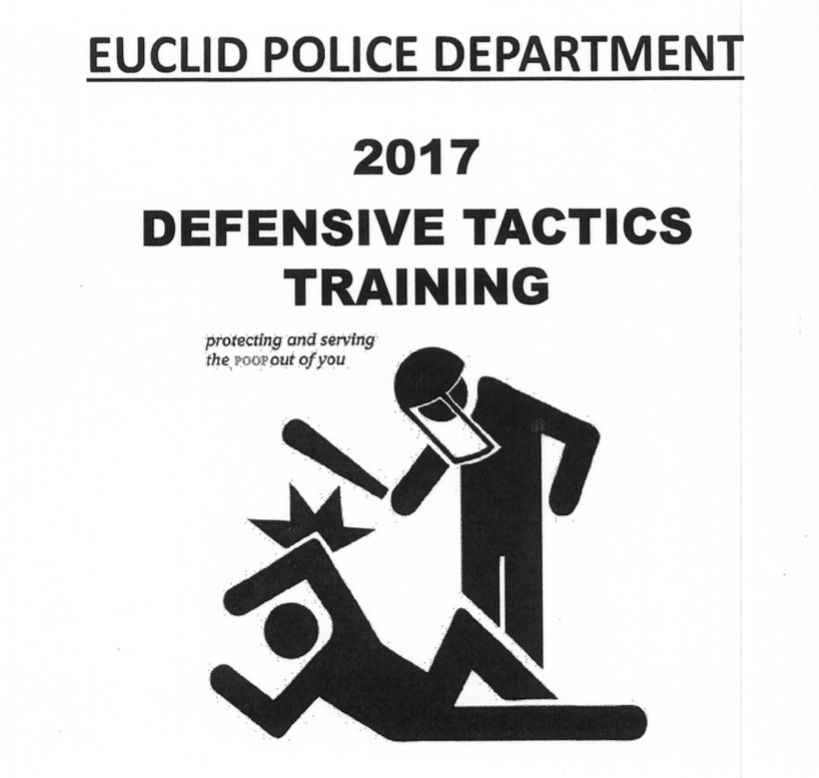 This training was also cited in Lamar Wright's civil suit against the Euclid police. Wright was being surveilled by two plainclothes officers, Kyle Flagg and Vashon Williams, who tazed and pepper sprayed Wright shortly after he pulled into a driveway to make a phone call. Wright was recovering from a recent surgery that required him to use a colostomy bag, which was ruptured during the violent arrest.
That lawsuit was initially dismissed, but in June the dismissal was partially reversed on appeal due to the same inflammatory training materials from Stewart's suit. That ruling will allow Wright's Section 1983 claim to move forward against the city of Euclid. Section 1983 is a law under which municipalities may be sued when official policies are in clear violation of constitutional rights.
Further investigation into past training programs reveal that Euclid procured training from the self-proclaimed "killology" expert, Lt. Dave Grossman. Grossman's courses began to face criticism after it was discovered that they had been attended by Jeronimo Yanez, the officer who killed Philandro Castile. Grossman's three hour "Bulletproof Mindset" course that Euclid police commissioned is primarily aimed at inculcating a "warrior" mentality in police officers. During the three hour lecture, Grossman encourages police to be ready to kill without hesitation. The presentation is filled with biblical citations justifying killing, unsubstantiated claims, and a reliance on debunked studies.
Christopher McNeal is the attorney for Richard Hubbard III, whose brutal beating by Euclid police officer Michael Amiott went viral in August of 2017. Hubbard was dismissed of all charges related to the brutal arrest, and Amiott is currently awaiting trial. "It doesn't really surprise me that the city of Euclid sent their police officers to the Bulletproof Mindset training given this municipality's history," McNeal said when asked about Grossman's inclusion in Euclid's training curriculum.
Dr. Montgomery scrutinized Euclid's training procedures closely in the aftermath of Stewart's killing, going so far as to enroll in the city's "Citizen's Police Academy Program". On the first day of the academy, the instructor told the class about how officers "use their senses" to determine if someone is about to commit a crime. The instructor then explained some of the criteria that officers use as a pretense for stopping someone: window tint, loud mufflers and music, and minor obstructions of license plate stickers. Montgomery was disturbed by this lesson, "How are the least educated people in a profession capable of having such strong intuition that they can tell what you're going to do in the future?"
Chasing Justice For Everyone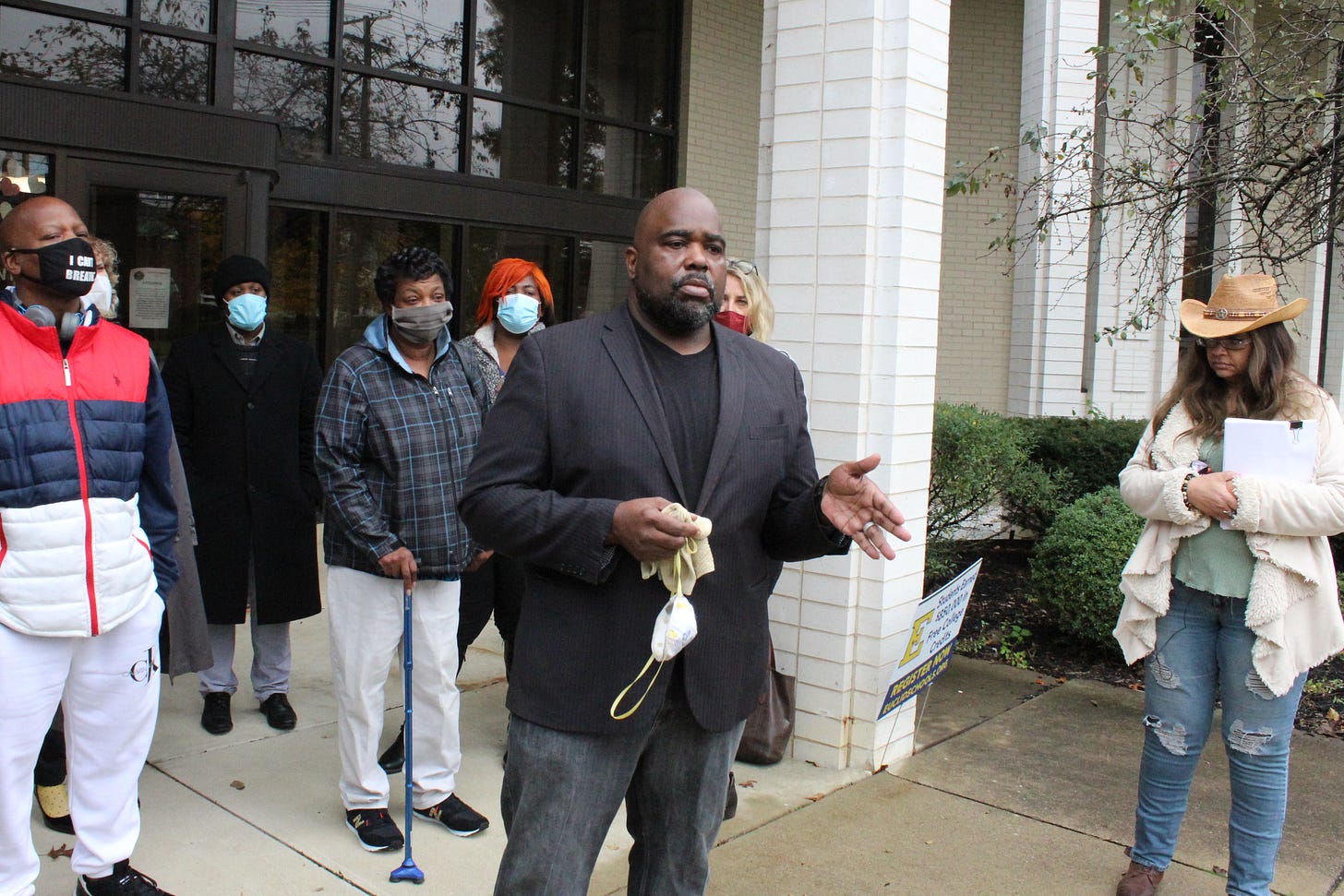 At a press conference held outside Euclid City Hall after filing their affidavits, Crenshaw and Montgomery were joined by Christopher McNeal, Sarah Gelsomino (an attorney with Friedman and Gilbert who represent the Stewart family), and Mary Stewart, Luke's mother.
Crenshaw opened her remarks saying, "I find no pleasure in what I'm doing right now," before going on to explain the affidavit charges to a gathering of media and supporters. She emphasized that this is a systemic issue caused by the lax oversight by OPOTA and police officials who are opposed to taking the mandated training. She emphasized that she is pro-accountability, not anti-police, and even expressed some sympathy for Rhodes' situation, "[Matthew Rhodes] might not even know that he's not a police officer, because his chief was responsible for making sure he took that training."
In the coming weeks, Chasing Justice plans to file affidavits in Euclid against officers Michael Amiott and James Aoki, who made headlines in 2017 for his arrest of Shajuan Gray. Crenshaw has also recently put in requests to review the training records of Euclid officers Williams and Flagg. The scope of Chasing Justice's investigation will not remain restricted to Euclid, though. Crenshaw and her team will also be filing similar charges against Sean Williams of Beaver Creek who killed John Crawford III in a Walmart in 2014. "I've put out over 900 public records requests in the past three weeks, asking for records for every peace officer in the state of Ohio. I want them from every individual agency," Crenshaw declared.
So far only four departments have demonstrated to Chasing Justice that they are taking their training management seriously. Every one of the departments that Crenshaw and her team have audited utilize firearm and use of force training, but very few are enrolling their officers in courses on trauma-informed policing, dealing with mental health crises, and other mandated training topics.
Dr. Montgomery spoke about the use of force data he has analyzed from Euclid, and how it demonstrates some disturbing trends that need to be addressed. In between May and November of 2019, 108 use of force incidents were reported, and 95 of them targeted Black men. He also pointed out that only 20% of officers make up 80% of the use of force reports.
McNeal called upon every prosecutor in the state to investigate their police departments and take this issue seriously. "If you are relying on the sworn testimony of these officers in order to obtain convictions, then the integrity of those convictions is going to have to be looked at and scrutinized very closely," McNeal warned. Conversely, McNeal urged defense attorneys to consider looking at an officer's training history as a standard part of their discovery process.
Gelsomino spoke about the frustration they have experienced with Euclid city officials in the course of trying to help the Stewart family receive justice. Gelsomino admonished the city, saying Euclid's current Police Chief Scott Meyer, Mayor Kirsten Holzheimer Gail, and the city council have "not shown any interest in constitutional, legal policing that respects the humanity and the dignity of the people they represent in this city."
Mary Stewart only had a brief statement on this new development in her son's case. "I'm just wondering what type of training do the police get to chase a vehicle down, get inside, and kill a person. Is that the way they train people?"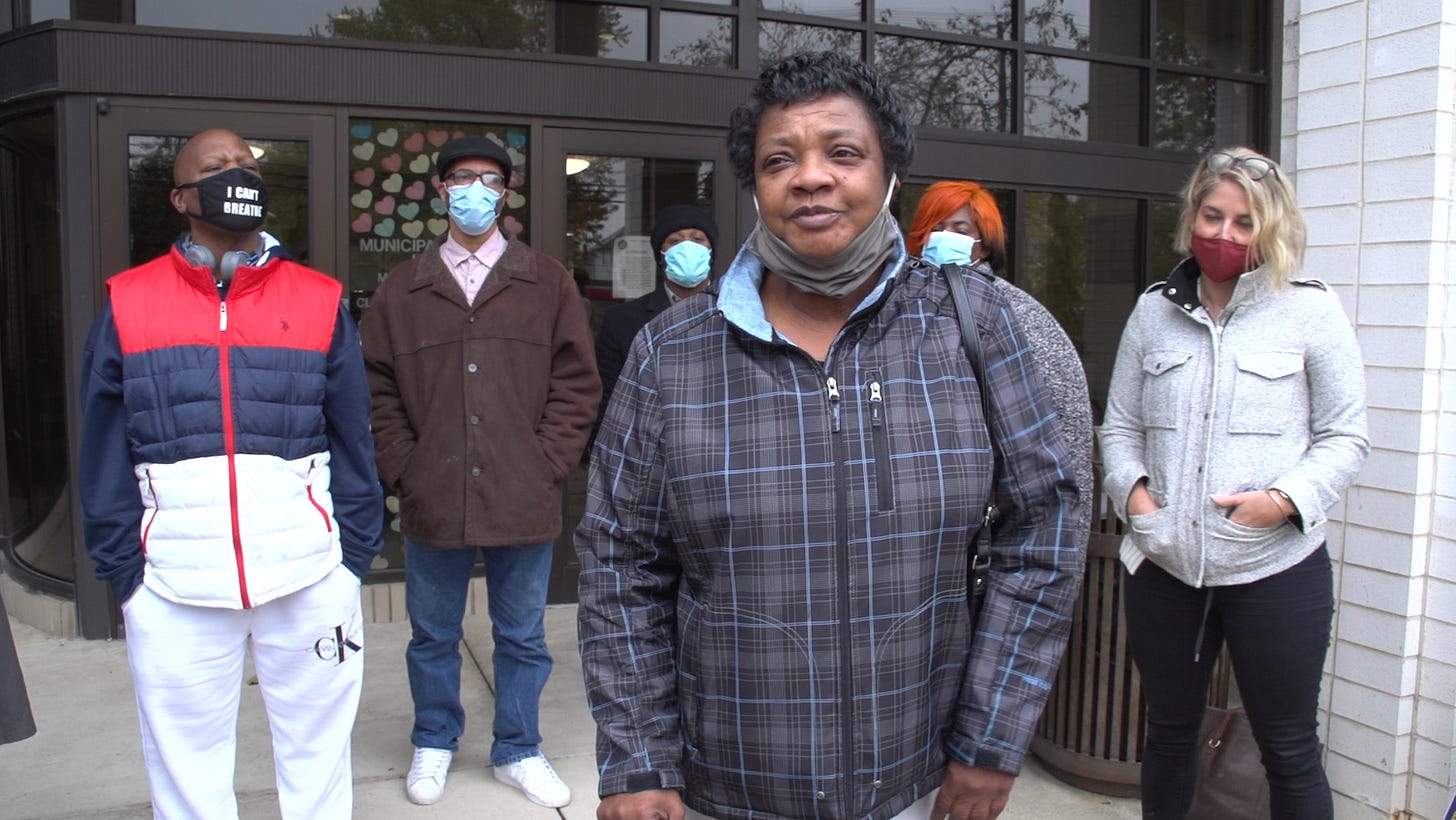 Mary Stewart, Luke's Mother.
---
Brian "BZ" Douglas is an independent, reader-supported journalist, and host of the "BZ Listening" Podcast, covering movement politics and grassroots music.